Employees hate slow internet connections. Few things kill productivity and morale faster than waiting for webpages to load, or unresponsive cloud applications to do their jobs. Now that virtually every modern workplace relies heavily on its internet connection, any length of unscheduled downtime is enough to have a noticeable effect on your bottom line.
If poor performance, security concerns or reliability issues are plaguing your organization, here are a few things you can do to address the problem:
#1. Expert setup and configuration
Setting up an office network tends to be a lot more complicated than just plugging in a router, glancing over a setup manual, and then getting online. Unlike home networks, office networks handle more connected devices, and they need additional security controls to monitor and protect the flow of data in and out of the company.
All but the smallest workplace networks need extra hardware, such as network switches, wireless range extenders, and cable management. To save time and money, and reduce the risk of something going wrong, get an expert to install and configure your network.
#2. Ongoing maintenance
Traditionally, business computer support followed the break/fix model. If the internet is down, you'd typically call an unresponsive technical support line or hope that your IT guy would be able to come in and quickly solve the problem. That's when the invoices start piling up and employees leave the office early because they can't do their jobs.
Managed IT services providers (MSPs) offer proactive maintenance and support and focus on preventing problems from arising in the first place. Ongoing maintenance routines ensure firmware is kept up to date, patches are installed promptly, and failing hardware is replaced sooner.
#3. Performance analytics
For large networks, performance analytics are essential to closely monitoring the flow of data in and out of your network. Analytics dashboards give you a full view of internet and application usage throughout your organization, even across multiple departments and branches. More sophisticated systems combine advanced data-governance and security and round-the-clock monitoring to protect and optimize your network in real time. When anomalies occur, administrators will be alerted automatically, giving them a chance to address any issues before they get out of control.
#4. Cutting-edge security
More than ever, information security should be a top priority. Business networks, processes, and applications need to be secure by design and every office network should have 24/7/365 monitoring.
Organizations must also have other security measures such as intrusion detection and prevention systems, real-time reporting, and web filtering. Web filtering is especially useful not only for keeping malware away from your network, but also monitoring employee activity and potential data breaches. Combined with round-the-clock support, you will always be kept informed, in real time, about any suspicious or problematic activity.
Not sure what cybersecurity tools your business needs? Our free eBook, 3 Types of Cybersecurity Solutions Your Business Must Have, can address some of your security concerns.
#5. Bandwidth management
Although internet speeds are constantly increasing, there's no such thing as having an office network that's too fast. Furthermore, most applications will just use all bandwidth available to them by default, which means even the fastest networks can get bogged down by downloads and other bandwidth-intensive activities.
The last thing you want is for mission-critical systems like internet telephony and cloud productivity applications to become unresponsive because someone decided to download a 5 GB file. Fortunately, most enterprise-grade routers feature built-in bandwidth management controls, which allow you to prioritize network traffic by category to ensure that your most important systems always have enough.
Quicktech provides professional IT services and solutions to organizations in Vancouver, Burnaby, and Richmond. Call us today if you're looking for a technology partner you can depend on.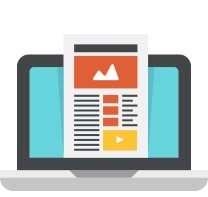 Like this article?
Sign up below and once a month we'll send you a roundup of our most popular posts