While the benefits of cloud computing are without doubt, migrating from an in-house system requires careful planning and execution. It's not something you can expect to do in one day, and there's plenty that can go wrong if the process isn't guided by experts. Since most smaller organizations don't have the required resources, many choose instead to outsource the operation to a third party who will take a share of the accountability and provide service level agreements (SLAs) indicating that the job will be done within a certain time frame.
Before you sign any contracts, follow these tips to find a provider you can depend on:
#1. Familiarity with your industry
Cloud migrations are complex, multifaceted processes, and no two projects look the same. Instead, they vary substantially by business and industry. For example, some industries are subject to certain compliance demands, such as PCI DSS for organizations that handle credit card payments or HIPAA for any organization that handles healthcare information. Different industries face a raft of varying needs and priorities, so it's essential that you choose a provider with a proven track record working with businesses similar to yours. There is no one-size-fits-all solution here, hence the importance of a tailored approach.
#2. Ongoing support
Since cloud migrations are complex and adapting to a new system requires extensive preparation, support, and additional training, the last thing you want is a provider who will leave you in the dark the moment a job is done. Although a cloud migration is just one project, it's what comes after that really counts.
There'll inevitably be some new things that your employees will need to get used to, hence the need for ongoing support and training. Rather than focusing entirely on the migration itself, think long-term by choosing a provider who offers exceptional help desk support and ongoing service availability.
#3. Strong links with major service providers
Many cloud migrations partially or wholly involve public cloud services managed by technology giants like Amazon, Google, or Microsoft. If you're migrating to the public cloud, you'll be using their data center resources, rather than any belonging to the managed services provider itself. That's why you should carefully explore the relationships your potential providers have with major service providers and ensure they have all the necessary certifications. For example, you won't want to have a provider managing your Azure Infrastructure if they are not accredited Microsoft Partners.
Download our free eBook!
Interested in moving to the cloud? Gain more background information on how it works and why you need it by reading our free eBook: Demystifying the Cloud
#4. Willingness to share the risk
Like any major technology upgrade, cloud migrations come with a degree of risk, which is why information security and compliance should always be prioritized. When your data is in transit, it can potentially be vulnerable to attacks, and there's always a risk of something going wrong. Your provider should be able to establish every contingency necessary to minimize the risk and mitigate the effects of any unforeseen problems. They also should take a share of the responsibility both in financial and legal respects, and they must be compliant with any industry standards your business is itself subject to.
#5. Ability to scale with your demands
Scalability and change management are critical in today's fast-paced market. Digital disruption is constant, hence the need to find a provider that's at the very cutting edge of technology and is prepared to adapt and alter your strategy at short notice. You should also be wary of those who insist that you move everything to the cloud as soon as possible. Although the cloud offers the perfect solution for many business processes, that doesn't mean you should be expected to completely transform your existing infrastructure overnight. A dependable provider should be able to help you prioritize effectively without constantly trying to upsell.
Quicktech helps businesses in the Richmond, Burnaby, Coquitlam and other areas of Metro Vancouver with cloud migration services, improving your security and implementing backup and recovery you can depend on to drive growth and increase productivity. Call us today to find out how we can help.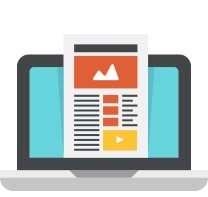 Like this article?
Sign up below and once a month we'll send you a roundup of our most popular posts