There are few buzzwords that remain more woefully misunderstood than the elusive cloud. In fact, a third of Americans think 'the cloud' is a real cloud. What might come as a surprise to some is that virtually everyone who uses the internet is already using the cloud. That's because the cloud simply refers to any computing resource delivered through the web — web-based email and online storage being the two most popular service categories.
But, meteorology aside, cloud computing offers profound benefits in the business world, where it's more important than ever to become adaptable to changing market conditions while still retaining control over IT budgets. The cloud effectively lets businesses outsource their technology needs on demand for a set monthly fee, typically charged on a per-user basis.
Here are some ways businesses are using cloud technologies to drive growth:
Becoming more adaptable
Modern technology is a constant source of disruption, as it continues to evolve at a pace many companies struggle to keep up with. It's driving ongoing change across every market, which is why businesses need to become as agile as possible to keep up. That's not likely to happen if you're stuck with an in-house data center that's bursting at the seams with the high demands of today's market. By letting you access your computing resources on demand, the cloud gives you the flexibility to capitalize on new market opportunities that small businesses normally can't afford to compete in.
Boosting business continuity
Businesses across every sector find themselves facing constant threats from cybercrime and other incidents that involve the destruction or misappropriation of their most valuable asset — digital data. When there's so much at stake, and a lot can go wrong, it has never been more important to prepare for any eventuality.
You can greatly improve your organization's risk maturity by hosting your apps and data in multiple remote data centers of major cloud providers like Amazon, Google, and Microsoft. That's a whole lot safer than keeping everything in a single physical location.
Dealing with technology obsolescence
Obsolescence is one of the greatest curses in the world of technology. We've all spent money on the latest gadgets only to find them surpassed by something else mere months later. If you're running a business that depends on its own in-house servers and workstations, the only option you have is to shell out for regular upgrades and ongoing maintenance to achieve optimal productivity.
Unfortunately, regular hardware replacements and upgrades are expensive and more prone to downtime. The cloud, on the other hand, allows businesses to customize their IT infrastructure without worrying about hardware limitations. They simply outline their needs and everything is maintained and managed by their cloud vendors.
Enabling workforce mobility
The office desk is steadily becoming a novelty as people grow accustomed to working from home or on the move. Workplace flexibility isn't just a trend anymore — it's the new norm in a world where companies are finding themselves tapping into talent from all over the world rather than being restricted to their local workforce.
Cloud technologies enable anywhere access to company apps and data, thereby allowing workforce mobility and all the morale and productivity benefits that come with it.
Increasing service availability
How many times have you called a customer or technical support department only to be greeted with an excuse like "Sorry, our computer systems are down right now"? The costs of unscheduled downtime can cripple any modern business in an age where customers expect fast service and high availability.
Rather than waiting for their IT systems to break and having to rely on break/fix technicians, many companies are now subscribing to proactive technology support. Cloud service providers handle updates and maintenance and guarantee uptime as defined in their service level agreements (SLAs).
Quicktech helps businesses in Richmond, Burnaby, Coquitlam and other areas of Metro Vancouver with cloud migration services, improving your security and implementing backup and recovery you can depend on. Call us today to have us handle your IT challenges.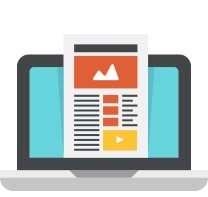 Like this article?
Sign up below and once a month we'll send you a roundup of our most popular posts