Ninety percent of companies are already on the cloud. In fact, even the Canadian government is shifting to the cloud. The benefits of cloud migration are numerous. It improves productivity, mobility, scalability, and most importantly, it reduces operating costs. But, as with any change that may affect your entire business, it is wise to be vigilant about migrating to the cloud.
There are many considerations that should be weighed by companies. They can help you be more aware of the process that your business will be going through. The following questions serve as a guide in planning your cloud migration strategy:
What are your business needs?
Map your current system: plot existing hardware, applications, web servers, and databases to have a clear view of what you have on hand. Determine what your primary resources are, how you want your resources managed, accessed, secured, and how much cloud capacity you'll need. Then study carefully the different cloud service models and cloud solutions to see which one will fit your business requirements.
Which cloud service model do you need?
Software-as-a-service (SaaS) – Gives quick access to cloud-based web applications. These applications can be used by paying a licensed subscription or for free with limited access. Some examples include Google Apps and Dropbox.
Platform-as-a-service (PaaS) – In the context of PaaS, a platform is a place on the internet where you can develop, test, and run custom applications. To illustrate, a real estate agency can use PaaS to build its own custom app for tracking its inventory of properties. Examples include Microsoft Azure and Heroku.
Infrastructure-as-a-service (IaaS) – A cloud provider hosts servers, storage, networking hardware, and other virtualized resources over the internet. With IaaS, businesses can rent the IT infrastructure they need instead of building it all on their own. Amazon Web Services (AWS) and Google Compute Engine (GCE) are examples.
Here are the three types of cloud solutions:
Public – Cloud resources are owned and operated by third-party cloud service providers and delivered over the internet.
Private – Cloud computing resources are exclusively used by one organization.
Hybrid – A mix of private cloud and public cloud services allowing data and applications to be shared between them.
Also, be aware of your existing software license terms and conditions to avoid migrating applications that might void your contract. This is especially important if you are considering the public cloud. Note if you will need additional licensing of your existing software and if your chosen vendor can help you fulfill all the needed requirements.
Is your staff prepared?
Training your employees to be ready for the cloud will not only eliminate the confusion with the new system, but it will also help you minimize having your data lost or mishandled. Never assume that all your employees will just adopt the cloud infrastructure. Educate them and fill in skills gaps to improve productivity and boost morale.
Download our free eBook!
Interested in moving to the cloud? Gain more background information on how it works and why you need it by reading our free eBook: Demystifying the Cloud
Scalability options
Will the cloud be able to expand or scale down with your business? It is possible. The cloud offers different types of scaling that can handle the changing needs of your business.
Vertical scaling – To scale up or down is to increase or decrease the processing power and/or storage capacity of a server by adding or removing resources such as hard drive space and RAM.
Horizontal scaling – To scale wider or narrower is to handle changes in network traffic by adding or removing multiple pieces of software or hardware (such as entire servers) and connecting them together as a single system.
Diagonal scaling – A combination of the first two where you maximize the use of your existing infrastructure until you hit the tipping point, and then adding more resources as needed.
Are there additional costs?
Yes. Despite the promise of cost savings in the cloud, there are still other expenses involved in the migration process. Take into account that you will have to pay for both your on-premises data storage and your cloud at the same time, as well as the tools and services involved in the transition. Make sure to calculate all the costs of the resources that you plan to provision in the cloud. Be clear on the price of each service you will be using so you can add all that to your planning and budgeting.
Are you prepared for potential risks?
Like in a traditional data center, information stored in cloud is still vulnerable to threats. That is why security is a fundamental requirement of any system. Moving data to and from cloud infrastructures should be done properly, especially with sensitive data. Be ready to deal with unwanted latency, unexpected obstacles, and even the failure of the migration project entirely. To avoid this, make sure that you can depend on your cloud provider to help you navigate these risks and solve them as they come.
Cloud migration can be an overwhelming project. But a well-planned and executed move to the cloud will reap all the benefits that it offers. Take time when shifting to the cloud. Do your research and take note of our considerations. Talk to our cloud experts at Quicktech. We improve on revolutionary tech and are adept in customizing the cloud for your business. We offer enterprise-class migration services, security management, ongoing maintenance, and cloud backups. Move to cloud with us. Call now to learn more.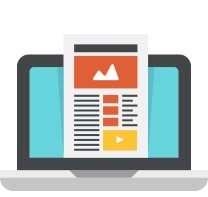 Like this article?
Sign up below and once a month we'll send you a roundup of our most popular posts