Digital transformation might be one of the hottest trends in business, but there's still plenty of confusion over what the term means and whether it's even relevant to all industries. The many myths and misconceptions aren't displaced by the fact that the majority of organizations fail to meet their digital transformation goals and get the return on investment they expect.
The simplest explanation of digital transformation is that it's the process of using digital technology to create new or change existing business processes, such as those pertaining to business culture and customer experience.
Digital transformation is far broader in scope than any other area of business strategy. It's not just about technology either; it involves sales, marketing, customer service, product research development, and other business processes. It's about how companies engage their customers, how employees do their jobs, and how business leaders use technology and data to drive informed decision-making.
Customers are the driving force behind digital transformation
Businesses in every sector face constant pressure to modernize, and that inevitably means adopting digital technologies to improve efficiency. It's what customers now demand in an era of instant gratification and practically limitless accessibility to products and services. Today, the buyer journey often starts and finishes online. Almost all transactions involve some kind of digital interaction, whether it's checking out a menu online before booking a restaurant table, reading online reviews and forums before making a purchase, or seeking post-sales support through an online ticketing system.
Download our free eBook!
Read our free eBook: 20 Signs That Your Business is Ready for Managed Services for a summary of the core IT problems we commonly see before small- and medium-sized businesses make the switch to managed IT services
Matching changing customer habits, driven by the evolution and accessibility of modern technology, must be a top priority for any business in today's fast-paced market. That's why digital transformation starts and ends with customers.
Overabundance of data demands automation and artificial intelligence (AI)
Every digital activity generates data, and our rapidly increasing reliance on technology has led to an exponential increase. We now live in an age of data overabundance where data sets are so large that they're impossible to make sense of by relying on manual methods alone. At the same time, the ubiquity of data means there are more opportunities than ever to gather customer insights.
This rise of "big data" is another key driver of digital transformation. To keep up with the constant evolution of technology and the ever-loftier demands of customers, businesses need to do everything they can to increase speed and efficiency. That means that everything that can be automated should be automated. But automation isn't just about improving efficiency and freeing up time for employees to work on more strategic and rewarding tasks. It's also about reducing human errors that may lead to costly disruptions or expose businesses to cyberthreats.
Like many things in business technology, the rise of AI is largely inspired by developments in the consumer sector, such as the fast-growing popularity of conversational interfaces like Apple's Siri, Amazon's Alexa, and Microsoft's Cortana. AI provides a practical solution to the challenges presented by big data. It can draw upon huge amounts of data to garner valuable, human-understandable insights, predict future outcomes, and more.
Digital transformation equals business transformation
It's time for businesses of every size, scope, and industry to recognize the true value of digital transformation for driving business change. As customers change the way they do things in favor of more convenient, digital methods, then so must the organizations that wish to do business with them.
Quicktech provides IT consulting, help desk support, and managed services to businesses in Vancouver. If you need technologies to kick-start your digital transformation, our consultants will assess your business and recommend best-of-breed solutions to meet your goals. Call us today to drive business growth.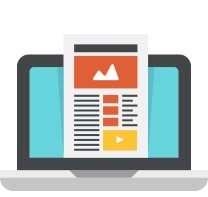 Like this article?
Sign up below and once a month we'll send you a roundup of our most popular posts