A virtual Chief Information Officer — also known as a vCIO — plays a crucial role in any new business by providing a dedicated outsourced IT expert.
While plenty of entrepreneurs have the vision and smarts to build their own company, not all of them have the knowledge required to properly invest, implement, and maintain IT infrastructure.
A vCIO solves this by providing IT planning and management to ensure that everything from software and hardware to policies and best practices are tailored to the business's needs.
Below, we explore the specific responsibilities of a vCIO, and how they help improve workplace performance and productivity.
Plans for and improves on your IT infrastructure
The primary task of a vCIO is to help you plan for your technological needs.
These experts take an objective look at your current infrastructure, systems, and practices to make recommendations for the future. One of the primary benefits of partnering with a vCIO is their relentless attention to current IT trends and developments, which is passed on to you as a competitive advantage.
For example, they might prevent you from making a misinformed purchasing decision that would lead to wasted money or business downtime. Think of this person like a guide for all your IT investments.
Enhances your IT security
vCIOs are gurus when it comes to cybersecurity best practices. They'll cut through all the complicated explanations and fearmongering to offer you the best protection against common and emerging cyberthreats.
Cybercrime is a never-ending concern for businesses large and small. In fact, statistics show that 58% of cybercrime victims are small companies with less than 250 employees.
Download our free eBook!
Unsure which cyber security solution your business needs? Read our free eBook: 3 Types of Cyber Security Solutions Your Business Must Have to understand how to make the right call when it comes time to decide how to make everything work with the budget.
An IT consulting partner provides the latest recommendations on cybersecurity tools, software, and methods. These professionals also perform risk assessments, install business continuity upgrades (i.e., firewalls, servers, virus, and malware protection), and offer continuous network monitoring.
When a cyberattack strikes, your vCIO will respond immediately to reduce business downtime and prevent data loss.
Assists with your long-term IT budget
Although some providers offer standalone vCIO services, managed services providers like Quicktech include them in their standard support package. This ensures that your budget is their top priority. The industry norm is for small- and medium-sized businesses to spend about 6-8% of their revenue on technology, but those numbers can be reduced with effective planning and forethought.
At a minimum, your vCIOs should measure system performance, perform regular diagnoses, and track the life cycles of your hardware — all while keeping your current and future business projects in mind. More than just features of the service, all that information forms the justification for a budget that also accounts for unexpected expenses.
As tech trends and best practices evolve, you can rest assured that they'll keep you advised on which IT investments are most aligned with your business goals.
Helps you save costs and improve productivity
The average CIO salary in Vancouver is $160,000 but most small- and medium-sized businesses don't need a full-time CIO. The addition of the letter 'v' before the title means you still receive the same level of consulting and advice, just without all the extra costs and burdens of an in-house employee. It's just not a position you need to have on staff until you're well into the medium-sized category of business.
A vCIO spends years specializing in small-business IT. They know how to optimize everything with limited resources and how to manage security as a remote collaborator. When you're ready to expand and bring the role in-house, you'll already have a solid technology foundation in place.
Hire yourself a vCIO today!
Cut costs and receive top-notch IT expertise with QuickTech's vCIO service. We provide IT support and consulting to businesses in Burnaby, Richmond, Abbotsford, and all other cities of Greater Vancouver. To learn more about what we can do for you, download our free eBook: 20 Signs That Your Business is Ready for Managed Services.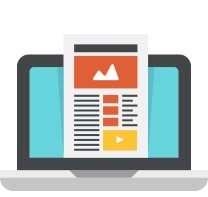 Like this article?
Sign up below and once a month we'll send you a roundup of our most popular posts