Whether your business is new to remote working or has been doing it for years, you know the many challenges that managing a distributed team brings. Foremost among these is how to get your staff to collaborate. Getting your employees to work together when they're all in the same place is difficult enough, let alone when they're literally miles apart or in different time zones.
So how do you boost remote team collaboration and enjoy increased efficiency and productivity? Here are some steps you can take.
Establish communication standards and processes
As a business leader, you know that the success of any project, no matter the scope or scale, depends on clear and effective communication. This is even more important when your team is working remotely.
Having a standard communication process will ensure smooth, efficient communication among the members of your remote team. This involves establishing which communication tools to use. Messaging apps like Slack are best for chatting and touching base with one another, while meetings and webinars can be held over video conferencing apps such as Zoom. For a robust all-in-one communication platform, choose Microsoft Teams. Email is another valuable communication tool, as is a Voice over Internet Protocol phone system.
Whatever platform you're using, it's best to be as succinct as possible. Remind your team of the importance of being concise yet clear in all communications, whether written or verbal. Doing so reduces the chances of miscommunication, which can lead to disastrous missteps in your operations.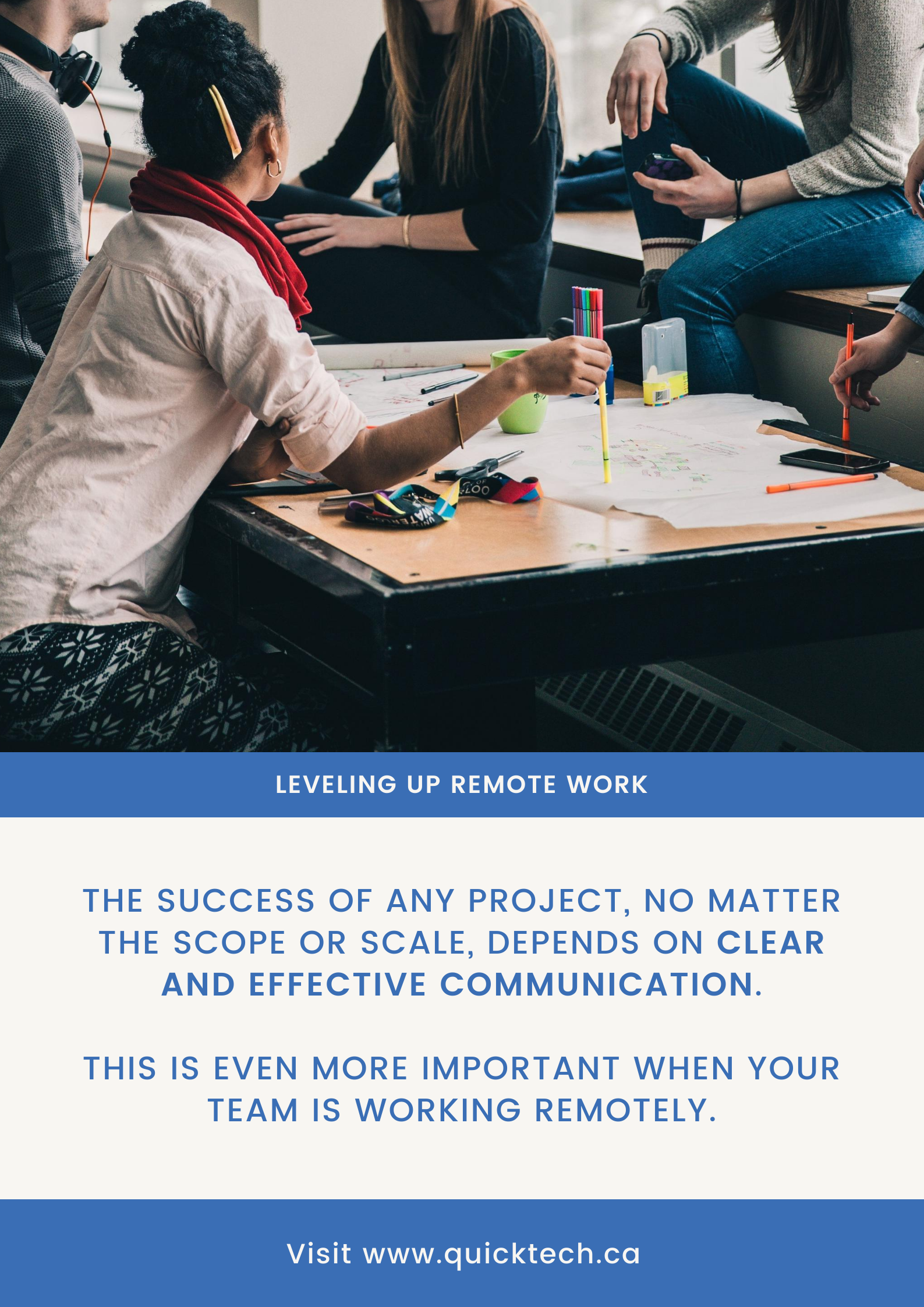 Equip your team with the right tools
Communication apps aren't the only tools your remote team needs to be able to work together efficiently. These must be used together with online collaboration tools that will allow your staff to stay on the same page and keep their productivity up no matter where they're working from.
Must-have collaboration tools for remote workforces include a project management app like Microsoft Planner or Asana. Project management apps have a centralized dashboard where you can add and assign tasks to teams or individual workers, create to-do lists, set and monitor deadlines, and share files. This lets everyone stay organized and provides a quick overview of all current, upcoming, and completed projects.
Cloud storage services such as Microsoft SharePoint let your team save files created on their computers or mobile devices to an online server, which can be accessed from any internet-connected device. This makes it possible for several people to work on the same file in real time. Any changes made to the files will be mirrored in the server, so users always have access to the latest, most up-to-date versions.
Popular online productivity suites such as Microsoft 365 come with a variety of apps that make collaborating easy and convenient for remote teams. Microsoft 365 offers web versions of familiar Office programs such as Word and Excel along with collaboration apps like Microsoft Teams and OneDrive. With its instant messaging, video conferencing, and project management functionalities, Teams serves as a centralized hub for team communication and collaboration. Meanwhile, OneDrive is a powerful solution for storing and sharing documents via the cloud.
Define schedules
Working from home often means more flexible work hours for your team. They're free to clock in and out when it's most convenient for them. While studies show that the flexibility brought by remote work setups increases productivity, it can cause issues related to employees' availability, especially in teams whose members are in different time zones.
Address such issues by setting a clearly defined team schedule. Find out what time zones your employees are in, when these time zones overlap in terms of work hours, and what acceptable response times would be. Once you've determined these, you can guide your employees in creating a schedule that works for all of them, thus ensuring their availability for collaborative tasks and discussions.
Encourage your team to stick to their set schedules, but let them know that it's okay to make adjustments to their work hours as needed, as long as they meet deadlines and inform their managers and co-workers. This sets clear expectations and allows the rest of the team to tweak their own schedules or workloads accordingly.
Foster strong working relationships
For all its benefits to employees and employers alike, a work from home setup does have drawbacks. One of these is the lack of face-to-face interactions, which is crucial for building camaraderie among colleagues. In turn, workplace camaraderie ensures better collaboration and communication, and ultimately, increased productivity.
Foster camaraderie and strong working relationships among your employees by holding team-building activities regularly. These could be something as simple as weekly team-wide catch-up sessions. Kick things up a notch with virtual game night — try any of the built-in games in social networking app Houseparty or use the screen sharing capabilities of Zoom or Teams to play third-party online games. These and other activities will make your distributed workforce feel less isolated and disconnected from one another, as well as increase their motivation, efficiency, and collaboration.
Managing a remote team and ensuring everyone's cooperation can be tough, but not impossible. With the right tools and strategies, you can build a strong sense of community and collaboration among your staff as well as maximize their productivity.
Quicktech can help you acquire the IT solutions your team needs to work efficiently, whether they're at home, in the office, or on the go. Get in touch with us today to learn more about our best-in-class services.
---