A helpdesk is a specialized department within a company that's responsible for addressing technical problems experienced by customers. Larger enterprises may also maintain internal helpdesk departments for aiding employees with solving IT issues. Serving as a single point of contact and offering a centralized and people-powered approach to tech support, helpdesks are invaluable for speeding up resolution times.
#1. Proactive interventions
helpdesks serve as extensive knowledge bases that rely on technology themselves to effectively prioritize support tickets, collate information, and serve users faster. To that end, they gather knowledge every day and run regular performance reports to proactively reduce the chances of issues occurring in the first place. This also gives them the opportunity to warn users about problematic systems and offer workarounds whilst they find permanent solutions.
Since helpdesks maintain logs of every previous interaction, they are well-equipped when it comes to resolving known issues reported by users. Some larger helpdesks, such as those provided by managed IT services providers (MSPs) serving multiple businesses, have different levels to help them prioritize more effectively and ensure that every question gets answered as quickly as possible.
#2. Improved satisfaction
Today's customers are often spoiled for choice. With a wider range of options than ever before, combined with more and more information to influence purchase decisions, it doesn't take a lot to turn them away. What hasn't changed, however, is the amount of time customers have to solve their technical problems. As such, prompt customer support is an absolute must for maintaining a solid brand reputation.
Customers are interested in quick and personalized solutions to their problems, rather than much-maligned options such as automated chatbots and lengthy call queues. If you provide services to end users, helpdesks provide a single support platform. By outsourcing your technical support needs, you can tap into leading industry knowledge to provide the full resolutions your customers or employees need.
#3. Increased productivity
People who experience technical problems often spend a whole lot of time trying to resolve issues themselves or find inadequate workarounds. For non-technical employees, in particular, that presents a huge waste of time that they could better spend doing the jobs they were hired to do. For customers, it means increased frustration when they want to be able to enjoy the product or service they paid for rather than trying to make it work for them.
Relying on helpdesk support is ultimately about having the right people for the right jobs. For customer-facing helpdesks, your existing support team can refer the more complicated issues to the experts, instead of trying to help customers themselves when they're not suitably equipped to do so. For employee-facing helpdesks, it means spending less time resolving trivial IT issues and more time doing what it says in their job descriptions.
#4. Anywhere accessibility
Not many businesses are open around the clock, but that doesn't mean your customers are happy to wait until 9:00 a.m. the next working day to get the support they need. Many IT helpdesks, especially those designed for internal corporate use, offer 24-hour assistance. Furthermore, the information collected by a helpdesk is often curated and published in the form of a self-service knowledge base that users can refer to anytime they want.
Customers also demand an omnichannel support experience in which they can contact your support team using their medium of choice no matter where they are. IT helpdesks typically provide this omnichannel experience while also using technology to remotely resolve issues. For example, they might use remote desktop software to fix problems online, instead of having to be there in person.
Quicktech offers helpdesk support and other technology services and expertise to companies in Burnaby, Richmond, Langley, and all other cities of Greater Vancouver. Call us today to schedule your first consultation with our team.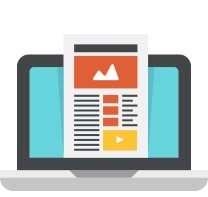 Like this article?
Sign up below and once a month we'll send you a roundup of our most popular posts