The choices you make as an entrepreneur can make or break your business, and critically define your ability as a leader. In fact, a business owner's ability to make effective decisions correlates with their company's financial success.
Below, we dive into six tips for improving your decision-making process, which enhances business growth, productivity, and worker satisfaction in the process.
Understand your company, your customers, and the market
The importance of knowing your company (and its clients) inside out can't be overstressed. To make the best decisions for your business, it's critical to be on top of all your business reports, media coverage, marketing campaigns, and other factors affecting growth and progress.
By knowing all the necessary facts and information, you can then strategize ways of improving customer satisfaction, curbing your competition, and optimizing business operations with greater accuracy and confidence. It also helps to have the right analytical tools and metrics in place for tracking the success and achievement of business goals.
Get others involved
It's important to be aware of your own biases, prejudices, and expectations. While sticking to your gut helps in some situations (after all, only you know the precise goals and vision you have for your business), you'll also benefit from staying open to other opinions and perspectives.
Leverage the expertise around you, and welcome viewpoints from employees, business colleagues, and other managers. Learn from veteran leaders in your industry, as it's likely they've endured (possibly more of) the same trials and tribulations of running a company. If it helps, you may want to consider hiring business advisors or consultants to help with heavier, more technical business decisions.
Evaluate your assumptions
Beware of turning assumptions into ideologies. While estimation is a good foundation for decision-making, you may benefit from actually challenging and testing your hypotheses. This reaps more accurate results and, in more severe cases, alleviates the risk of disastrous outcomes.
In an interview with Forbes, business author Michael Schrage emphasized the critical need for evaluating assumptions as a company manager. Failing to do so is "being dishonest" with your business's potential risks and opportunities for progress. He notes how very few banks, in the lead-up to the 2008 financial crisis, tested their assumptions on the real estate market. They had "very forgiving assumptions" and with their lack of evaluation, lead to unforgivable consequences.
Embrace new ideas and ways to improve
In any business, innovation is key. Learn to step out of your comfort zone and find new ways of doing things, as you'll never know if a different method, idea, or system will raise worker efficiency and thus, company profits.
Business inefficiencies can hinder your annual revenue. That's why you should always look for ways to improve. This goes hand in hand with outsider input and testing your assumptions, as both can encourage bolder, braver corporate decisions.
Download our free eBook!
Read our free eBook: 20 Signs That Your Business is Ready for Managed Services for a summary of the core IT problems we commonly see before small- and medium-sized businesses make the switch to managed IT services
Learn from your mistakes
No matter how much experience they rack up, no manager is immune to mistakes — small and large. However, it's crucial to view these as learning opportunities rather than hindrances. This means not letting the fear of failure hold you back and focusing on progress, rather than perfection.
Should you make the wrong decision, take a step back and evaluate what went right, along with why you "failed." This better equips you to handle the same challenges on your next attempt; and with your newfound knowledge from past experience, you may just find success on your second take.
Give yourself a reasonable timeline
Quality business decisions require an appropriate time frame for thought and evaluation. This depends on the weight of certain decisions — for example, large business ventures such as mergers or acquisitions will require an in-depth assessment of all options and involved information, while day-to-day decisions won't require nearly as much effort.
As a business owner, it's important to distinguish the heavyweight decisions from the meagre ones, providing yourself enough time to reach an optimal conclusion.
Business decisions don't have to be made in isolation. Both small and medium-sized businesses in Toronto can benefit from Quicktech's professional services. We offer business owners with modern solutions to optimizing productivity, implementing technology strategies, maximizing growth, and more. Maintain an innovative and industry-competitive company, and consult with our experts today.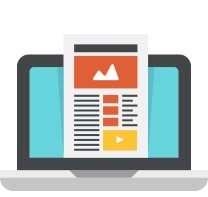 Like this article?
Sign up below and once a month we'll send you a roundup of our most popular posts