The rise of artificial intelligence (AI) technology has left many anxious about the future state of their business (or career). Although the anxiety most often reflects a fear of being replaced, AI is more likely to create positive changes and opportunities.
A recent report by CPA Canada shows that while 68% of the nation's companies take advantage of AI in some form — our country's businesses are slower to adopt these technologies than other nations. Implementing AI-centered solutions such as advanced automation come with a long list of benefits.
Below, we dive into the five largest impacts of AI on business — and the possible enhancements to your workforce.
Greater cybersecurity
Cybercrime is rampant and the Canadian government currently spends an annual $14 billion on cybersecurity.
AI technology strengthens security procedures by tracking and identifying suspicious and malicious behaviour carried out by websites and apps. Cybercrimes are growing in sophistication and number faster than humans can keep up, which is why it's vital to incorporate tools that learn without any human intervention.
As cybersecurity vendors rely more heavily on AI, there is a risk that criminals follow suit and set off an artificial intelligence arms race. Individuals must remain vigilant by keeping themselves updated on the latest cybersecurity trends and developments.
Reduced costs and streamlined operations
Through AI's machine-learning capabilities, businesses can streamline their supply chains; this covers automating manual tasks such as inventory-taking and the transportation of warehouse goods. According to Forbes, companies can benefit from adopting robotic process automation (RPA), natural language processing (NLP), and deep-learning technologies to truly optimize AI in their operations.
Business owners can thus reduce the cost of manual labour, and with AI tech growing in proficiency, it can soon be relied on to improve and automate decision-making processes. This relieves the burden on customer service staff or consultants, speeding up operations and boosting productivity.
AI-driven human resources
So-called "Smart HR" is now in full swing, and companies like Mya Systems, Text Recruit, and Workey are using AI for fundamental tasks such as headhunting, recruitment, and termination.
These platforms prevent the need to hire extra staff and streamline the new employee onboarding process. AI technology not only helps you source candidates — but it also gets better at finding the best fit as you provide more feedback on its results.
According to Undercover Recruiter, AI will replace 16% of HR jobs in the coming decade so you might as well jump on board early.
Personalized customer service
AI technology does wonders for customer personalization with lightning-quick data analysis. This enables you to reveal habits, patterns, and strategies that are specific to a customer's needs and interests.
For example, "sentiment analysis technology" focuses on things like a customer's tone of voice to create empathetic responses to complaints or queries. When integrated with online chat, you need fewer people to deliver exemplary service to customers.
Enhanced marketing strategies
AI is also helpful when forecasting industry trends and consumer behavior, which is invaluable when creating marketing and sales strategies. Google's pay-per-click advertising service, for example, includes an AI-powered feature that suggests times, placements, and bids based on what it thinks will be most successful for your ads.
Another example is when eCommerce platforms suggest products based on a customer's previous actions. This almost completely automates the upsell process. The more of these solutions you use, the lower your overhead expenses become, which means more profit per dollar spent.
Equip your business for the AI revolution
Let AI strengthen, rather than reduce, your business. Quicktech's IT support and consulting services give you roadmaps, strategies, and solutions for staying ahead of the curve. We believe in a collaborative approach that combines your business expertise with our technology know-how to uncover growth opportunities.
If you're located in Burnaby, Richmond, Surrey, or anywhere else in the Greater Vancouver area, download our free eBook today to learn more about what we can do for your bottom line.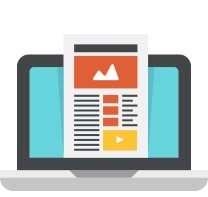 Like this article?
Sign up below and once a month we'll send you a roundup of our most popular posts